Star Trek III - The Search for Spock
A complete list of cards in the Star Trek The Search for Spock Movie Card Set by Fantasy Trading Card Company. Included are the quantities I have available for trading and also what I need.

This card set actually has two very unique promo cards available for it. Though these cards are hard to acquire, they are worth the search. I haven't been able to place these promo cards in a binder with the other cards because of their size. The promo cards measure 9 3/4" by 9 3/4".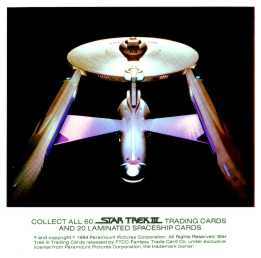 To trade cards with me: Just mail me an offer
Trading Cards Main Page
Star Trek The Motion Picture
Star Trek II - The Wrath of Khan
Star Trek IV - The Voyage Home
Star Trek Generations
Star Trek First Contact
Star Trek Insurrection


Star Trek III - The Search for Spock (1984)
Fantasy Trading Card Company
Last Updated 11/26/99
Plot Cards
Card No.
Stock
1
-2
2
*
3
5
4
2
5
*
6
14
7
-3
8
*
9
4
10
3
Card No.
Stock
11
12
12
6
13
*
14
*
15
6
16
8
17
8
18
19
19
7
20
7
Card No.
Stock
21
13
22
5
23
13
24
6
25
7
26
16
27
8
28
7
29
23
30
16
Card No.
Stock
31
30
32
26
33
16
34
*
35
14
36
15
37
7
38
8
39
9
40
5
Card No.
Stock
41
7
42
*
43
2
44
7
45
10
46
1
47
-1
48
6
49
16
50
3
Card No.
Stock
51
*
52
7
53
3
54
5
55
11
56
20
57
5
58
-1
59
12
60
7
Ship Cards
Card No.
Stock
1
-2
2
*
3
+2
4
-1
5
*
6
+1
7
-1
8
-2
9
*
10
*
Card No.
Stock
11
*
12
-1
13
-2
14
*
15
+1
16
*
17
*
18
*
19
*
20
+1
Specials
Enterprise Promo Card
*
Crew Promo Card
*
Any Other Promo, Insert, or Chase Card
-1
Complete Sets
Complete 60 Card Set and 20 Card Ship Subset
*
Trading Card Main Page
Star Trek The Motion Picture
Star Trek II - The Wrath of Khan
Star Trek IV - The Voyage Home
Star Trek Generations
Star Trek First Contact
Star Trek Insurrection